IS DONE!
AAAH!
I'm so happy
. If you remember, a while ago I posted about
Astrid's Bedding being done
! Well, now, her room is done too!
(Hear that little girl? Your room is finished... you have your own space now... you can come out now.
...seriously.)
So here are a few pics.
I pulled colors from her bedding to paint her "accent wall" and framed the fabric and some coordinating colors of her bedding to put over top of the
painted rectangles
.
accent wall
The
frames
are pieces of cardboard with fabric that matches her bedding stretched over them and then framed.
Super Easy
. :)
I swear that dark square isn't black-- it's brown. :)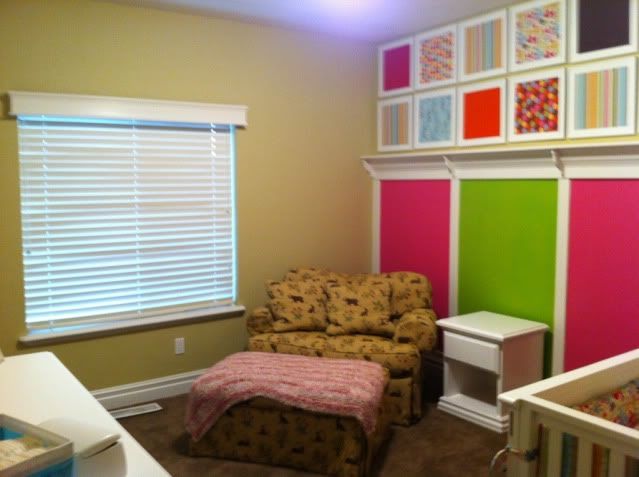 The pink blanket is one that my friend Katie made! She's so talented, I LOVE IT!
(please don't mind the can of "feline-away" on the crib. lol.
We are training Mao that the crib is a no no place!)
I made this
mobile
by getting a wooden wreath frame and painting it to match her striped bedding. The dangle-ies are made with
wooden crafting circles of various sizes
, that I painted to match the floral print. I glued two of them together on the end of a ribbon and threaded the other end of the ribbon through the pre-made holes in the wreath frame. The butterflies are also wooden ones that I found that conveniently already had holes in them that I could just thread the ribbon through. :)
The bedding all done and in the crib finally! :)

We didn't like the

dresser

that went with the

crib

(or the $300 price tag!)

so we picked one up on our local classified ads for 40 bucks! It was black, so we had to sand it, paint it, and add new hardware, but I LOVE how it turned out. :) For a great

tutorial

on how to repaint a painted dresser...

look here

!




The frame above the dresser is her

bow board

. It's just a

frame

with

fabric

covered cardboard glued to it with

ribbons

stretched across taut to hold hair clips. :) I painted some clothespins white to hold all of her extra-headbands! Just clip onto the ribbon.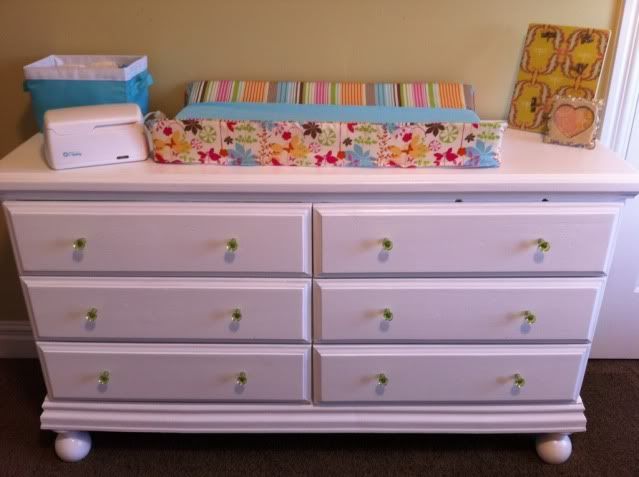 The cute
picture frame
on the right and the
magnetic board
behind it are from our good friend Susan Thompson. She runs
The Design House
, and has a boutique with all sorts of cute stuff. :) You can see her boutique
HERE
.
I LOVE the magnets on this magnetic board! Cute bees and dragon-flies! :)
I need to get a picture of Mr. Marcus and Astrid to put in the frame...!
So there you have it friends. Astrid's room... all done...
finally
.
Pin It