Today we went to the Sandy City Healing Field Display 9/11 Memorial.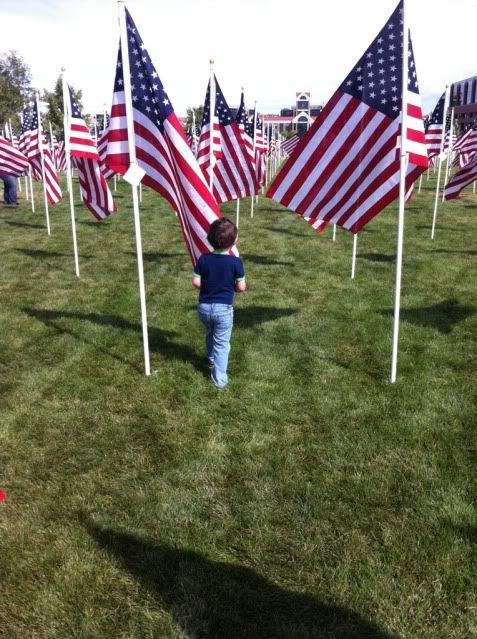 In Sandy, right by Cooper's office is the
Healing Field Display
. Over 3,000 Flags all lined up in the greenbelt in front of Sandy City Hall representing each life lost on September 11, 2001. Last week when they were setting it up, I was driving by and I thought to myself, "Wow. That's really cool that they are doing that. I should stop and take a picture." But then I kept driving and running errands-- bringing lunch to Cooper, running to target, and running errands by the mall. I drove by probably 10 times and still didn't stop to take a picture. Today, we decided that we would go.
Each flag has a tag and a story about the person the flag represents.
It is one thing to read the statistics of how many lives were lost ten years ago. I admit, I have thought, "wow... over 3,000 people. That's a lot. So sad." and that's all. It wasn't until I walked through all of the flags today to see and feel just how many people that is.
The sheer magnitude of the number of people that lost their lives came into perspective when all I saw around me was flags.
Looking South, flags for every person who died in the World Trade Center.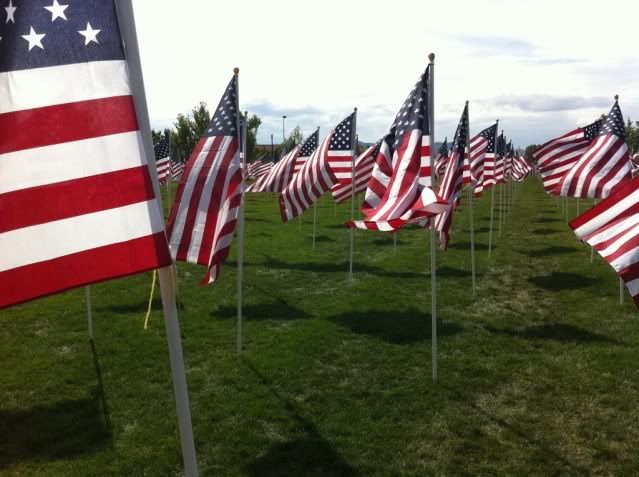 And looking north, flags for every person who died in the Pentagon, and on Flight 93, Flight 77, Flight 175, and Flight 11.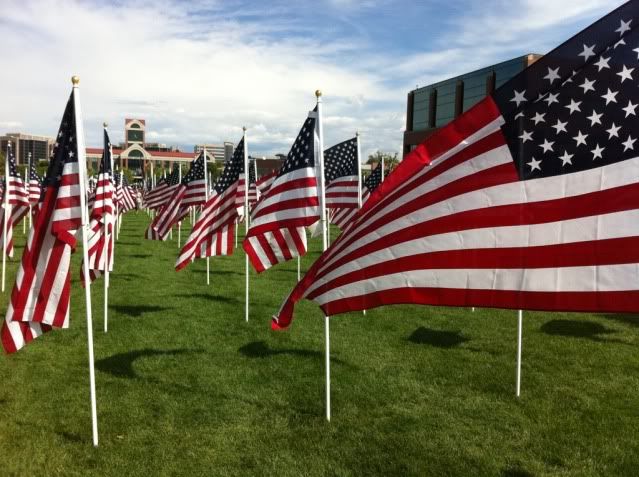 It was incredibly emotional. Cooper and I both fought back tears (though I don't know if Cooper will admit that... haha.) as we all walked though the flags and read various stories.
Afterwards we had to explain to Marcus (in kid-friendly terms) about what these flags were about and what happened on September 11, 2001. He had lots of questions about it and we tried to answer them the best we could. I know that he doesn't "get" it and he won't for a long time. But I think that it was a good learning experience for him and for Cooper and I as parents in teaching our children this important piece of American history. Seeing as he wasn't even born ten years ago,
he is too young to actually remember, but not too young to learn.
I'm glad that we were able to talk about it with him and remember ourselves.
Pin It